WordPress efficiency starts here.
Migrating, launching, cloning, or integrating a WordPress site has never been easier.
Try it
WordPress Pete provides the most reliable and intuitive WordPress development and production environment. With a rich feature set and customer-first support.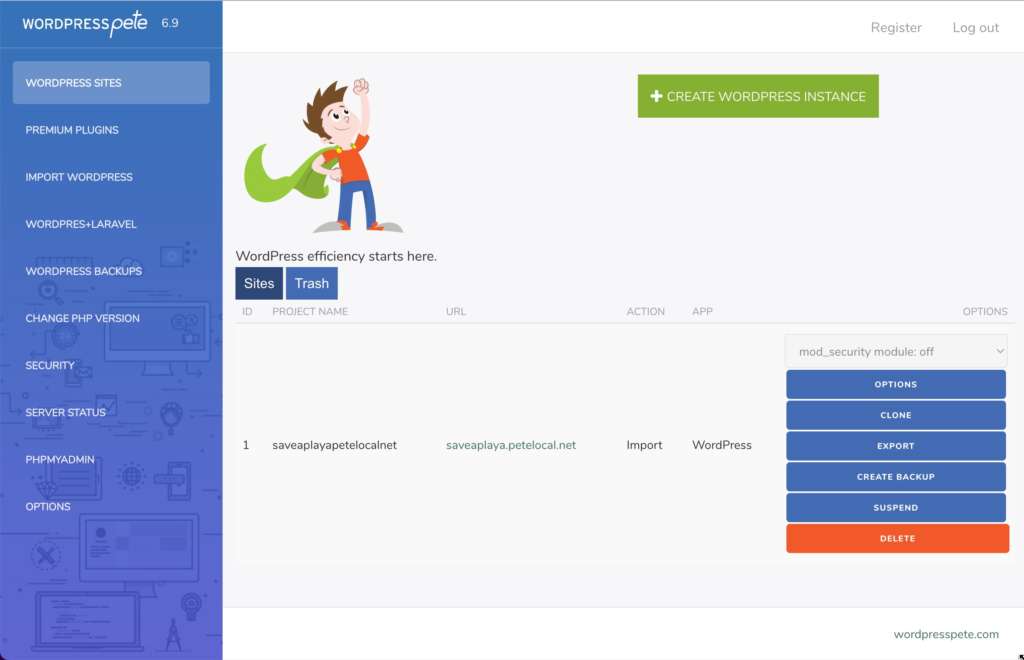 Whether you're a solo designer, developer, small business, or a 20-person team, our comprehensive platform has the tools you need to be a WordPress Pro on day one
Painless WordPress Development
Export your WordPress sites with the Pete Converter Plugin and quickly switch to your local machine's power for hassle-free plugin development, testing, or debugging at lightning speed
.
Clone WordPress Sites Hassle-free
Avoid repeating yourself by creating WordPress instances from scratch. Save time and resources by cloning existing sites with a single click. WordPress Pete will export your entire database and make sure that the cloned site is up and ready to go. Tweak existing WordPress installations to fit your new clients' needs in a matter of minutes.
Switch PHP versions
Switch PHP versions easily and debug your plugins with the power of your local machine
Easily Integrate Laravel & WordPress
Get the best of both worlds by integrating WordPress with Laravel – a powerful MVC framework. WordPress Pete enables one-click Laravel integrations out of the box.
Take control of your backups
Create additional backups by exporting your sites in WordPress Pete format. Sometimes backup systems fail. Cover all your customer bases
PHPMYADMIN
Browse and debug your databases with phpmyadmin included in the WordPress Pete installation



Export any WordPress site to your local machine in minutes, compatible with the most popular hosting vendors
Imagine powering the front end of your website in WordPress while managing content, payments, subscriptions, advanced tools, and custom dashboard in the powerful MVC framework Laravel (5.5+,6,7,8) Picture being able to deploy this robust development environment in just a few clicks — with the portability that you need to deploy across multiple servers. It's here and it's called WordPress Pete.
"I needed to run local tests with my WordPress sites and it was always a headache. With WordPressPete I was able to clone WordPress sites in my local environment in seconds."

"I needed to develop a subscription site and display certain personalized data. By getting a subscription  WordpressPete I could quickly combine Laravel to achieve it. My WordPress installation leveled up to the kinds of advanced configurations previously only  large companies could afford."

"My server was hacked recently and I needed to move all of my WordPress sites. It would have taken me weeks to do that, but with WordPressPete I could migrate 10 WordPress Sites in a couple of hours."

"As our project in WordPress grew we also needed more developers working. WordPressPete has been very helpful in integrating developers into the project in a short period of time, as they can quickly install our most updated version locally"